Well ladies, it's about mid spring already and I've been trying out lots and LOTS of new beauty products! Here are some of my favs and why: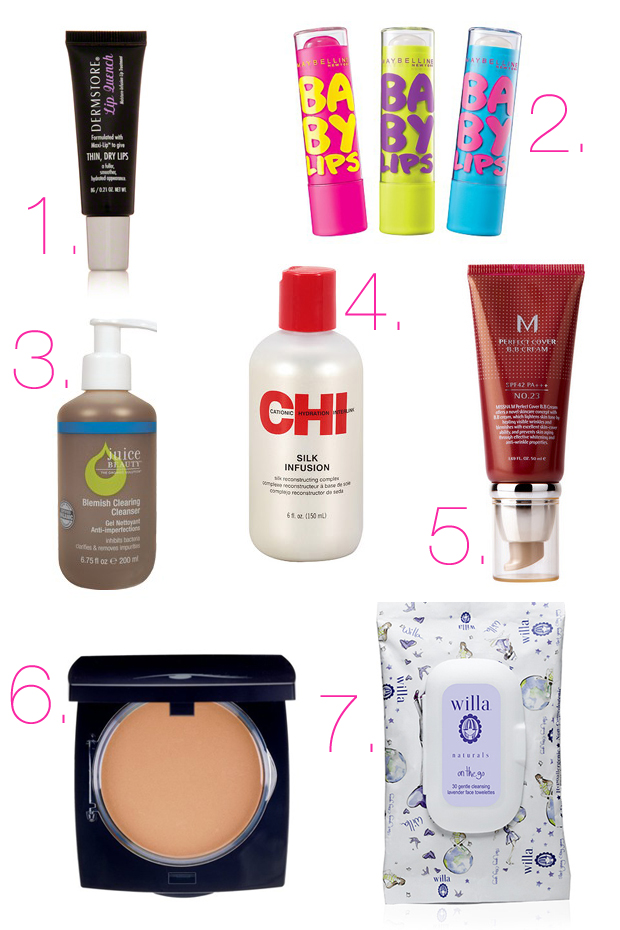 1. Dermstore Lip Quench Lip Treatment: I received this lip moisturizer in my April GlamBag. I love it because it's not super sticky, or too shiny and it doesn't cake. Its also really long lasting and leaves your lips nice and smooth. It also has a lip plumper without that tingly cinnamon feel I hate. Apply this lip moisturizer before bed and wake up with super smooth lips!
2. Maybelline Baby Lips SPF20 Lip Balm: I was shopping for mascara when I saw this super cute lip balm and decided to give it a try. Not only is this packaging adorable, but this lip balm smells and tastes great. I have this balm in pink punch and with SPF 20 it's my new favorite beach balm. It goes on silky smooth and leaves just a hint of tint. Don't forget wearing lip balms with SPF over the summer helps to keep your lips looking younger longer. Did I mention I got this for 3$?!
3. Juice Beauty Blemish Clearing Cleanser: I received this product in my March Birchbox, and I loved it! This gel cleanser is made with certified organic ingredients- "An organic juice base of sweet cherry, lemon, and aloe, which are all rich in healing nutrients and antioxidants. Coconut and sugar extracts remove blemish-causing gunk and oil while respecting your skin's moisture barrier. Finally, an alphabet's worth of vitamins—including A, B, C, and E—brighten and even out skin tone." Need I say more?!
4. Chi Silk Infusion: Ok, Ok I know I'm late to the whole "CHI" phenomenon but in my defense I've had really short hair for a long time and I just started regularly blow drying and using my straightener. I came across this at my cousin's place, and I left with the bottle. THIS STUFF ROCKS. Seriously. Magical. Use a dime sized amount on wet hair and blow-dry, or air-dry and your locks will feel magnificently smooth, sleek and soft. This will leave you with shiny sleek healthy feeling hair and it smells amazing. If there's one product you use on your hair it's this one.
5. Missha Perfect Cover BB Cream SPF 42: I've been hearing a lot about BB Creams (short for Blemish Balm Cream ) and I decided to give it a try. BB cream was first created by dermatologists to treat and protect skin after skin surgery while providing light coverage. Celebrities in Asia started to use it for natural-flawless-glowing look and it's now the hottest beauty product in Asia. BB cream is an "all-in-one" cream-moisturizer, primer, foundation, and sunblock. I love this Missha BB cream, it goes on silky smooth like a tinted moisturizer but with better coverage. It doesn't leave your skin cakey or feel thick. I like to set it with loose powder and it lasts all day! With SPF 42 I will be using this all spring and summer!
6. Amazing Cosmetics Velvet Mineral Pressed Powder: All of my friend's know that my favorite concealer is from Amazing Cosmetics. I decided to try their pressed powder and I LOVE IT! This powder can be used alone as a powder foundation or as a "setting" powder to use over your foundation [or BB cream!]. The mineral powder is super silky soft and super fine, easy to build coverage or keep it light. The finer the powder the more flawless your face looks and this is the perfect formula!
7. Willa Lavender Facial Towelettes: I received this in April's Birchbox and immediately said "oooOOooo Lavender!". I'm a big fan of these towelettes… especially on days I get home late from a fun night out. These super soft towelettes are pre-soaked with a "botanic cleansing formula…Aloe hydrates and heals irritation, lavender calms, and antioxidant-rich green tea helps skin look fresh and glowing". These towelettes are my new favorites and the smell is so calming after a fun night out or a stressful day.
Know about some great Springtime beauty products I don't… Tweet me!
What are some products you've been loving?!